Plastic Injection Molding
Plastic Injection Molding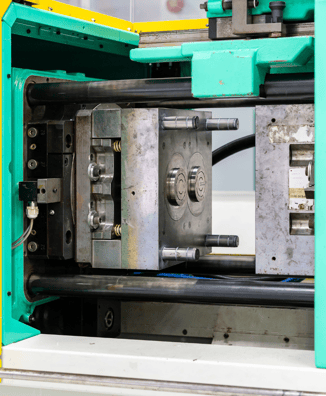 Insert Molding
Insert Molding binds metal and plastics, or multiple components into a single unit. It reduces assembly time and labor costs and delivers stronger part and allows for broader design flexibility.
Two- Shot Overmolding
Two-shot or multi-shot overmolding is a plastic molding process in which two different plastic resins are molded together in a single machining cycle and one mold.
Structural Molding
Structural Molding is a process where the addition of a blowing agent into the melted polymer and modification of process parameters allows manufacturers to produce very large structural parts. Parts are likely to have thicker wall sections, lightweight and rigid with a relatively hard surface at a lower cost.
In Mold Decoration (IMD)
IMD process involves inserting a preprinted (decorated) thin film plastic into an injection mold and then injecting plastic either behind or on top of the film. It allows plastic parts to be decorated during the molding cycle. Benefits include better design flexibility (more creative solutions), reduced costs-to-manufacture and higher manufacturing productivity.
Low Pressure Molding
Low Pressure Molding (LPM) is a process in where parts are molded at lower pressure and lower temperature to encapsulate fragile electronic components and assemblies.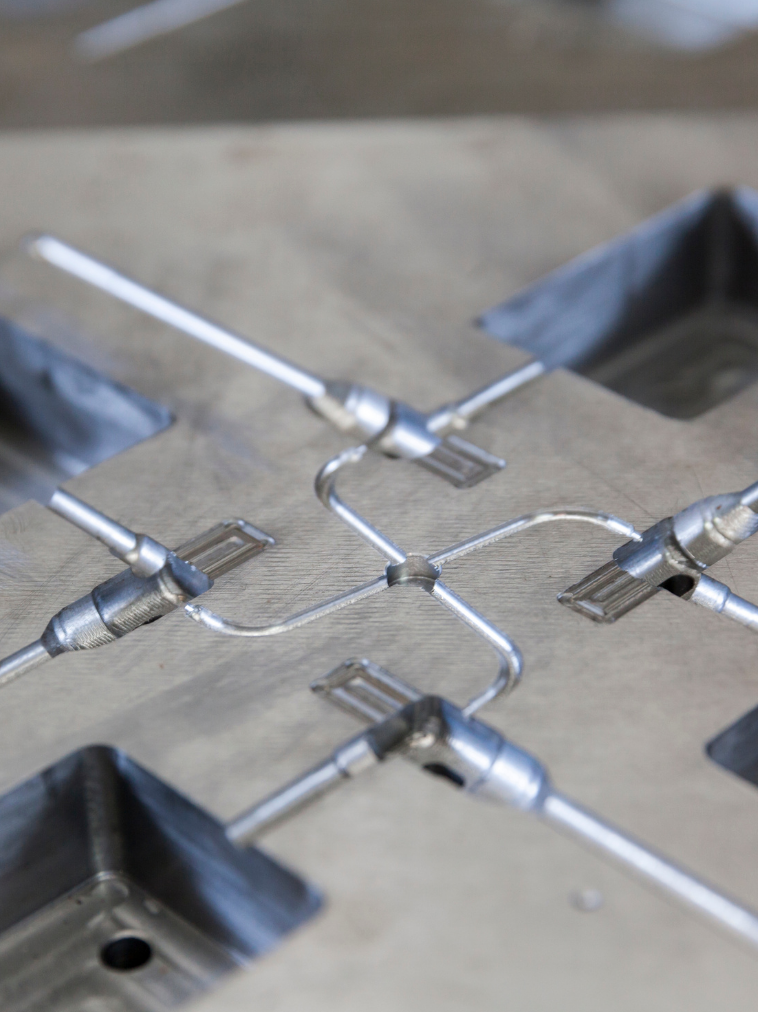 Soft Tooling
Soft tooling is used for prototyping or when a lower volume of parts is needed (1-100).

Injection molding is an excellent process for large volume production but tooling tend to be expensive.

Soft tooling offer the best economical solution to support our customers during their Product Development process.
Hard Tooling
Built for large volume production (one million and above) our hard tools are made of the highest quality materials.

Molding surfaces (cavities and cores) must be hardened to a minimum of 48 R/C range. All other tool constituents such as sub-inserts, slides, heel blocks, gibs, wedge blocks, lifters, etc. should also be hardened.

Over the life of a mold, corrosion in the cooling channels decreases cooling efficiency thus degrading part quality and increasing cycle time. It is therefore recommended that plates or inserts containing cooling channels be of a corrosive resistant material or treated to prevent corrosion.
Multi-Cavity Tooling
A single-cavity mold produces a single product per cycle, while a multi-cavity mold produces more than one product per cycle.

Whether you need a single or a multi-cavity tool depends on the number of products you want to produce within a certain timeframe and the cost of the tool. Our manufacturing engineers can help you determine the best tooling configuration.
Plastic Metallization is used to replace metal parts by plastics typically to reduce the weight and costs. We offer both decorative plating and EMI shielding on hard plastic parts or casings.
Decorative
For decorative coating, Matte Chrome and Bright Chrome finishings are available. Our metallized plastic components look exactly like metal parts.
Shielding
Our shielding solution provides a uniform complete coverage. The full coverage helps eliminate void areas and allows for complex designs (multiple ribs and bosses). It protects internal components from external electromagnetic energy.